We followed him out of the house and back to a half-finished building about 25' wide and perhaps 200' long with occasional doors, windows and garage doors which served, at various distances back, as music store, repair shop, guitar factory, and garage. We passed a lovely pond in the middle of a nicely kept lawn and flowers, nestled up against the house. The serenity of the pond was only somewhat disturbed by the mannequin legs sticking straight up from the center. Near the lake was a small white tombstone with the legend: "Here Lies Mary Thomas, Guitared to Death." Something seemed odd about the giant Douglas Firs gently swaying in the distance. Perhaps it was the fact that they were hung with guitars, giving the impression of Christmas tree ornaments.
Across a patch of mud and into the door of the shop. We were met by an aroma mainly consisting of cigar smoke, walnut dust, and fresh lacquer. Here were row upon row of guitars hanging from rods, as well as amplifiers, tools, car parts, furniture, and hand-drawn pastel posters singing the praises of "Thomas, the Cadillac of Guitars". Bumper stickers advertised country radio stations and artists, notably Buck Owens who was still a regional act. On a Honda 50 next to the counter sat a life sized dummy with the grotesque, pop-eyed face of a hanged man. Over the years this guy really got around, now seated in the living room, now lynched in the yard, now driving the company car.
Harvey stood behind the counter in front of the mysterious and forbidden door to the rest of the shop. It was years and dozens of visits later that I was first invited back through that door. I eventually worked as a repairman for Harvey.
I brought the plywood body sections and fretted neck out of a paper bag, and haltingly explained that I just needed a pickup to complete the project. Harvey gravely picked up the fruits of my labor and examined them silently for a few minutes as the cigar moved by some curious process from one end of his mouth to the other. Then he spoke.
"Do you have a fireplace?"
"Ah...No, but we have a trash burner."
"That will do fine. Put this junk in it and burn it. Then if you want me to show you how to make a guitar, I will."
Gulp.
Mom was furious, but thankfully didn't hit him or anything. I was abashed but determined. Over the next two and a half years, (and dozens of drives to Midway thanks to the ever-supportive mom and dad) I did finish an electric bass under his tutelage. Actually, he did half the work himself, back in the inner sanctum. He never really explained anything. Rather, he Socratically allowed me to chip loose little gems of info as I needed them. But only when I needed them
Harvey had a thing for Cadillacs. There were usually one or two bulbous, toothy, mid-fifties hearses in the driveway. These were generally black with white roofs and white stencil lettering saying "Thomas Custom Guitars." Farther back, by the shop's garage doors, there would be an ever changing herd of vehicles consisting mainly of Caddies from the '50s and '60s, but also including the odd pickup truck and speedboat. This flock was shepherded by a '40s vintage truck that was somewhere between a tow truck and a crane. The farther back in the driveway one got, the more (and worse) Cadillacs came in to view. The swamp was populated with cars, hearses, trucks, busses, and trailers, and every turn around a tree or a clump of blackberries revealed yet another group of treasures. Dry places between the ponds formed a labyrinth which described a sort of hierarchy: Those cars which were not called forward periodically by the crane became surrounded by poplar saplings and slowly went back to nature.
These vehicles formed one aspect of Harvey's vast trading stock. He constantly traded cars, busses, guitars, cash, and tools for each other in any combination and always came out ahead. I should know.
I was an 18 year old long haired freak when I started working at Harvey's shop, a fact Harvey was fond of pointing out in a redneck way. Actually, I felt a kind of kinship of outlandishness with him and his crowd. Although the hardcore Grand Ole Opry aesthetic that prevailed at the Thomas compound was older and better established than the hippie style, it was just about as far from the polite mainstream. My car had a brilliant sunset scene covering its roof and back end. Harvey drove a two tone hearse. Which is freakier? Of course, to his way of thinking he was a responsible, conservative citizen while I was some kind of radical.
True to my freakish ethic, I did not have reliable transportation for the 50 mile daily round trip. My 1961 Volvo 544 humpback didn't have a starter, and it was too flat there in the swamp to pop-start it.
"I've got a Volvo starter for you", said Harvey, and pointed to a Ford.
Huh? Is there a Volvo starter in the trunk, or... Oh. I get it. That Ford could start my Volvo by pushing it. Ha, ha.
I looked away from the Ford and back at Harvey to find his beady eyes fixed on me. He was intently ticking away the seconds, sizing me up by seeing how soon I would get the joke. He did this quite often. When he saw me finally catch on, he would roll his eyes in pity for the poor, thick hippie. "Sheesh!"
Another time he suddenly stated:
"Got a job for you. Need a wooden box one inch by one inch by fifty feet. (pause.) Guy wants to ship a garden hose." Tick, tick, tick. "Sheesh!"
One day Harvey gave me some advice on guitar playing.
"The secret of playing the guitar is to move your hands as little as possible. That's the mark of a real pro."
It sounded nonsensical at first. Then he began playing "Winchester Cathedral" just the way Chet Atkins would have done it. The full-blown arrangement flowed out easily from the short, powerful fingers that barely moved. Shifts up and down the neck were accomplished in a slow, flowing motion, and the picking fingers traveled a scant quarter inch. It all gave the remarkable effect of a pantomime. He sat still as a statue, drilling holes in your head with his characteristic glower.
The fact that Harvey's Country Western milieu was utterly foreign to me did not mask the fact that he was an accomplished guitarist and a consummate performer. His guitar making grew out of his former career as a machinist and his lifelong involvement with country music. Harvey played the regional country lounge circuit as a one man band. On stage he would sit on a bench behind "The Infernal Music Machine", a box containing his various amps, reverb springs, tape delays, flashing lights, and one of those old style rhythm boxes with the buttons marked "samba", "waltz", or "polka" which would give you one bar of little clicking sounds repeated to infinity. A set of electronic organ pedals lay beneath his feet.
The centerpiece of Harvey's on stage hardware was his triple neck guitar, which featured a standard six string with vibrato tailpiece on the bottom, a twelve string in the center, and a short scale six string bass, also with whammy, as the top neck. Above this considerable fire power, Harvey would sing country standards, for instance:
The old town
Is upside down
As I look up
From the ground
'Cuz I'm lying
Where the brakeman lately threw me

Down the road I look
And there goes Bessie
Good old cow
But kinda messy
that's why we've got
Such green, green grass back home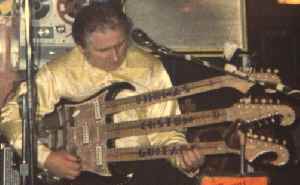 Click to see Harvey at the controls of the Infernal Music Machine.